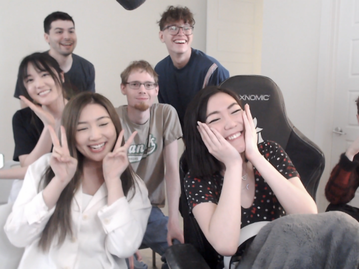 The Morning Lobbies, also referred to as the Hafu Lobbies, were morning Among Us lobbies primarily organized by Hafu, usually occurring daily from 8am PST to 11am PST. After the decline of Among Us the lobbies occur with less frequency, but many of the regulars still play together as friends.
The four main regulars in the Morning Lobbies were Hafu, 5up, Steve Suptic, and Dakotaz (DK). The lobbies are best known in association with OfflineTV, but also have connections to the Dream SMP, EU streamers, and other variety streamers.
Although the Morning Lobbies has since dissolved, many of the members remained friends. Nowadays, Hafu reverts back to soloing games and 5up pursuing his Minecraft success and strengthening his presence in the DSMP demographic. "The Boys" (Steve, Dumbdog, Ellum, Koji) continue to play games together, usually seen playing UNO or Fall Guys. The quartet did make an appearance playing on an OTV-ran Crab Game lobby (most likely invited by 5up, who was already playing at the time).
Background
[
]
The Morning Lobbies gained popularity in early November 2020, with many of the now "regulars" actively playing at that time.
Hafu was known as the "mom" in the lobbies due to her leadership and coordination. Whenever Hafu was on break and after she eventually stopped playing Among Us, "substitute teacher" 5up usually took over the organizer role.
As streamers tired of Among Us, the Morning Lobbies moved towards Custom Valorant games and variety content, with Among Us/party mini-games played for a day or two.
List of Streamers in Hafu Lobbies
[
]
Hafu Lobby Roster
Streamer
Stream Platform
Notes
Activity Status
Hafu
Founder & main coordinator of lobbies
Main regular
5up
Substitutes for Hafu when she takes a break playing
Main regular
Steve Suptic
Lobby's Rat and half of "Dumb & Dumber"
Main regular
DK
Often throws games; known to be petty; half of "Dumb & Dumber"
Main regular
DumbDog
One of the original players in lobbies due to long-time friendship with Hafu
Recurring regular
XChocoBars
Strong rivalry with DK in-game (and even made a song about him[1])
Recurring regular
PeterparkTV
Part of "The Boys" with the three male main regulars
Recurring regular
Plushys
Occasionally rivals with 5up
Recurring regular

Scott Smajor

One of several EU streamers that actively plays in lobbies, He created the Crewfu Minecraft server
Recurring regular

Koji

One of several EU streamers that actively plays in lobbies; best known for his Jester wins
Recurring regular

Ellum

One of several EU streamers that actively plays in lobbies
Recurring regular

TaliaMar

Recurring regular during the lobbies' apex; stopped attending for several months but now made a comeback April 2021
Recurring regular
TinaKitten
Regular player in both Hafu and Toast lobbies
Recurring regular

Annie Fuschia

One of the latest EU streamers to actively play in lobbies
Recurring regular

Chilledchaos

One of the first players in lobbies; his own lobby allowed Hafu to meet Steve for the first time
Recurring regular
Hbomb94
Recurring regular
Aipha
Recurring regular
Baycon
Primarily plays in lobbies for Valorant
Recurring regular
IkeHS
Same scenario as Baycon, but less frequently than him
Recurring regular
ZeRoyalViking
Guest regular
Yetiapocalypse
Main Twitch moderator for Ludwig
Guest regular
br00d
Guest regular
Junkyard147
Guest regular
BasetradeTV
Used to play in lobbies actively; now occasionally joins couple days a month
Guest regular
Skadj
Guest regular
Sips
Guest regular
Tectone
Known as "Teccy," recently played in lobbies
Guest regular
JesseSMFI
Started to play in lobbies more frequently March 2021
Guest regular
Kara Corvus
Started playing in lobby after playing in the Crewfu Minecraft server
Guest regular
Jvckk
Same as Kara Corvus however joined more for variety games
Guest regular
LexieMarie
Guest regular

TrainwrecksTV

One of the most notable variety streamers to play on lobbies
Guest regular
Disguised Toast
1 of 2 OfflineTV talents that played in lobbies, the other being Pokimane
Guest regular
KristoferYee
Guest regular

Fundy

In-game relationship with 5up, as they would only kill the other on a last-case scenario
Guest regular
Sleepy
Usually third wheels and jokes around with 5undy in lobbies
Guest regular
Tubbo
Played in lobby on Airship launch day
Guest regular
I AM WILDCAT
Guest
Bakbak
Created 11-player Among Us mod with a "Battle Royale" mode where there are three impostors that don't know who each other are and only one of whom can win
Guest
Falcone
Guest
Punz
Guest
vGumiho
Guest
Purpled
Played as a guest in one of the day Hafu took a break
Guest
Nihachu
Guest
ConnerEatsPants
Guest
Lani
Tubbo's little sister
Guest
Geenelly
Guest
Freyzplayz
Guest
Thea Trinidad
Guest
Botezlive
Both Alex & Andrea; now occasionally plays in lobbies
Guest
Bloody
Joined lobbies around same time as Ellum; began to play in lobbies again for Valorant
Guest
Amy Dumas
Guest
Dogdog
Hafu's husband
Guest
TheDeluxe4
Known as "D4" in lobbies
Guest
Cib
Roommate of Steven Suptic and worked alongside him in Sugar Pine 7; currently a main talent for SP7
Guest
Pokimane
Used to actively play in lobbies with XChocoBars; left and came back as a guest March 2021
Guest
Sydeon
Guest
Valkyrae
Guest player due to her venturing into more variety-based content
Guest
Ryan Higa
Guest player late 2020
Guest
Natsumiii
Guest player ~ February 2021
Guest
CORPSE HUSBAND
Guest player early November 2020
Guest
BrookeAB
Guest
Kkatamina
Played in lobby as the start of her 24-hour stream
Guest
BaboAbe
Same scenario as Miyoung but reversed
Guest

Ash_on_LoL

Guest

Ray__C

Guest

Wolfabelle

Stopped playing in February 2021; hosts her own EU lobbies

Made a comeback as of late June 2021 via Steven Suptic's Gartic Phone lobbies

Guest
OvileeMay
Stopped joining lobbies ~December 2020
Not playing
Svennoss
One of the first players in Hafu lobbies
Not playing
Gloom
Joined around the same time as Scott stopped playing December 2020 to make room for people streaming the lobby
Not playing
Myth
Regularly played in lobby November 2020; stopped playing
Not playing
Joey Graceffa
Played in lobby November 2020; stopped playing
Not playing
Activity status key
[
]
Main regular: the primary streamers that are the most recognizable in the lobbies ("Crewfu" or "The Crew")
Recurring regular: streamers that actively play in the lobbies on a daily that are not the 4 main streamers
Guest regular: Guest player in lobbies but often attends (5+ days per month)
Guest: Guest player in lobbies but have no intent on actively attending lobbies
Not playing: Formerly played in the lobbies regularly but left
References
[
]
↑ DehydrationBot (

2021-01-29

). Petty - xChocoBars (Video). DehydrationBot. YouTube. Retrieved on 2021-08-06.